Submitted by

yanderson

on Tue, 2020-01-28 11:16
Dear colleagues,
We are happy to announce that the seventh annual Undergraduate Research Week will be held May 18-22, 2020. We anticipate that over 1,000 students will present their research and creative work in Pauley Pavilion, Powell Library, the Faculty Center, and many other venues throughout the week!
In previous years, departments and programs have scheduled undergraduate events (presentations, poster sessions, art exhibits, concerts, honors thesis showcases, etc.) to coincide with Undergraduate Research Week. If you have an undergraduate event that you would like to have included in the Undergraduate Research Week promotional materials, please send the event name, date/time, and location to Kate McAllister at urhass@college.ucla.edu by January 31, 2020. (Events received after this date will still be publicized but cannot be included in printed promotional materials.) If your event is happening in May or June outside of Undergraduate Research Week, we would also be happy to include it in the promotional materials. 
More information about Undergraduate Research Week can be found here: http://urweek.ugresearch.ucla.edu/.
The 2020 Undergraduate Research Week events currently include:
Monday, May 18: Oral Presentations (9 am-3 pm, Faculty Center)
Tuesday, May 19: Research Poster Day (12:30-5 pm, Pauley Pavilion)
Wednesday, May 20: Multimedia Salon (2-5 pm, Powell Library)
Friday, May 22: Undergraduate Research Week Awards Ceremony & Reception (1:30-3 pm, Powell Library)
Thank you for your support of Undergraduate Research Week!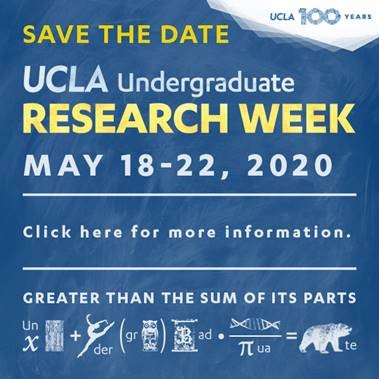 Direct Link:
http://urweek.ugresearch.ucla.edu/