Submitted by

vhartoonian

on Tue, 2020-01-21 08:20
Deadline:
Wednesday, January 29, 2020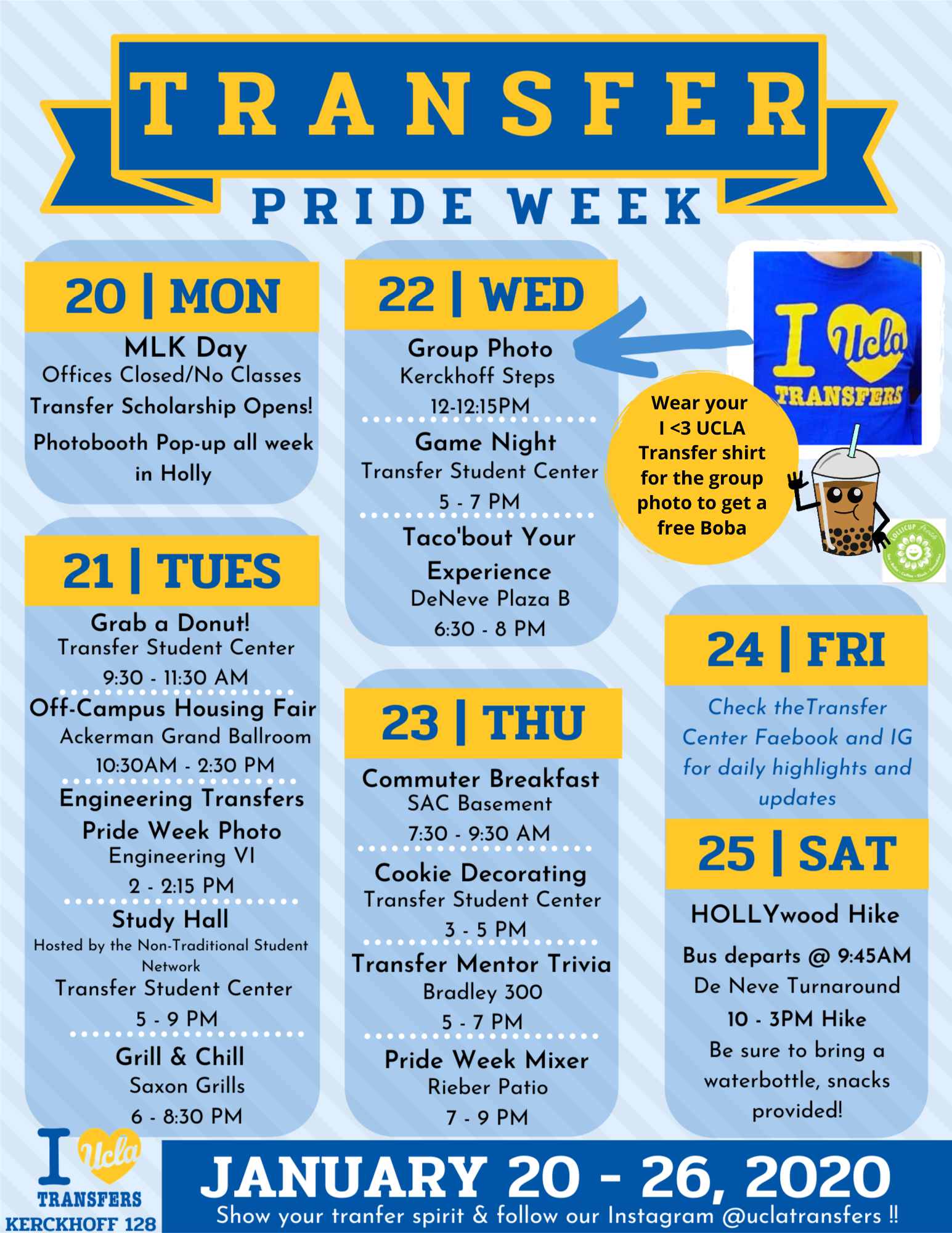 Transfer Pride Week is an annual tradition that celebrates transfer identity and transfer pride at UCLA, and there will be events, giveaways, and social media initiatives taking place all week! WOO HOO!!!!
Here are a few highlights for next week! Attached are the various flyers and graphics for sharing. Please share with all students and staff and spread the word about a week of all things transfer!!!
There will also be a pride campaign on social media. If your community would like to change your Facebook page banner, promote the IG filters,  and share transfer stories, Please do so. We will also share all banners, stickers, and filters once we get them. So keep your eyes out on social for all of that!!!
Monday, 1/20: MLK Day


Scholarship: Transfer Scholarship Opens!
Social Media: Pop-up Photo booth | De Neve Holly | Week-Long

Tuesday, 1/21


Event: Grab a Donut! | Transfer Student Center | 9:30 AM-11:30 AM
Social Media: Engineering Transfer Pride Photo | Engineering VI | 2 PM-2:15 PM
Event: Study Hall | Transfer Student Center | 5 PM-9 PM

Hosted by Non-Trad. Student Network

Event: Grill N'Chill | Saxon Suites (Grills) | 6 PM-8:30 PM

Grill Cheese, S'mores, Games, and Movies!

Wednesday, 1/22


Social Media: Transfer Group Photo | Kerckhoff Steps | 12 PM-12:15 PM

Wear your "I <3 Transfer Shirt"! Get Free Boba!

Event: Game Night | Transfer Student Center | 5 PM-7 PM
Event: Taco 'bout Your Transfer Experience | De Neve Plaza B | 6:30 PM-8 PM

Thursday, 1/23


Event: Commuter Breakfast |Student Activities Center | 7:30 AM – 9:30 AM
Event: Cookie Decorating | Transfer Student Center | 3 PM-5 PM
Event: Transfer Mentor Mixer | Bradley 300 | 5 PM-7 PM
Event: Pride Week Mixer | Rieber Patio | 7 PM-9 PM

Make a Transfer Sticker & Grab a Taco!

Saturday, 1/25


Event: HOLLY-wood Transfer Hike | Meet at De Neve Turnaround | 9:45 AM-3 PM!

RSVP only! Sign-Up at De Neve Gardenia, Transfer Student Center, or Rieber Terrace by Tuesday, 1/21.
Secondly, when it comes to finding housing, it's always better to start early! Apartment spots go very quickly, and we want to make sure that each of you has a smooth transition to next year.
Here are some Housing/Apartment-Hunting events that are coming up:
Tuesday, 1/21


Off-Campus Housing Fair

| Ackerman Grand Ballroom | 10:30 AM-2:30 PM

Hosted by the IVP Office
Property/Apartment Managers will be present to chat!

Thursday, 1/23


Leases and Landlords: Moving Off-Campus | Carnesale: Hermosa | 7 PM

Tuesday, 1/28


Housing Information Session | De Neve Holly Multipurpose Room | 7 PM-8 PM

Hosted by the Transfer Experience
Apartment-Hunting Presentation from the Financial Wellness Program, Informational Handouts.