Submitted by

dylan

on Wed, 2016-05-11 09:01
Contact:
src [at] college [dot] ucla [dot] edu, urhass [at] college [dot] ucla [dot] edu
The UCLA Scholarship Research Center and the Undergraduate Research Center for Humanities, Arts, and Social Sciences are now coordinating the nomination of UCLA students for most major national scholarships and fellowships, including the prestigious Rhodes Scholarship.
The Rhodes Trust, a British charity established to honor the will and bequest of Cecil J. Rhodes, provides full financial support for Rhodes Scholars to pursue a degree or degrees at the University of Oxford in the United Kingdom. The award covers educational and living expenses. Each year, 32 young Americans are selected as Rhodes Scholars.
To be eligible for a Rhodes Scholarship, a student must:
        Show academic excellence (generally a minimum GPA of 3.7 unless having outstanding service or athletic credentials).
        Have great personal energy, ambition for impact, and an ability to work with others and to achieve one's goals.
        Be committed to make a strong difference for good in the world, be concerned for the welfare of others, and be conscious of inequities.
        Show great promise of leadership.
The UCLA campus deadline for the Rhodes Scholarship is: June 30, 2016
For more information on the Rhodes Scholarship and the UCLA nomination process, please refer to the http://www.scholarshipcenter.ucla.edu/prestigious-scholarships/rhodes/ for detailed campus application instructions.
Students may also contact the Undergraduate Research Center for Humanities and Social Science (310-825-2935 or urhass [at] college [dot] ucla [dot] edu) or the UCLA Scholarship Resource Center (310-206-2875 or src [at] college [dot] ucla [dot] edu).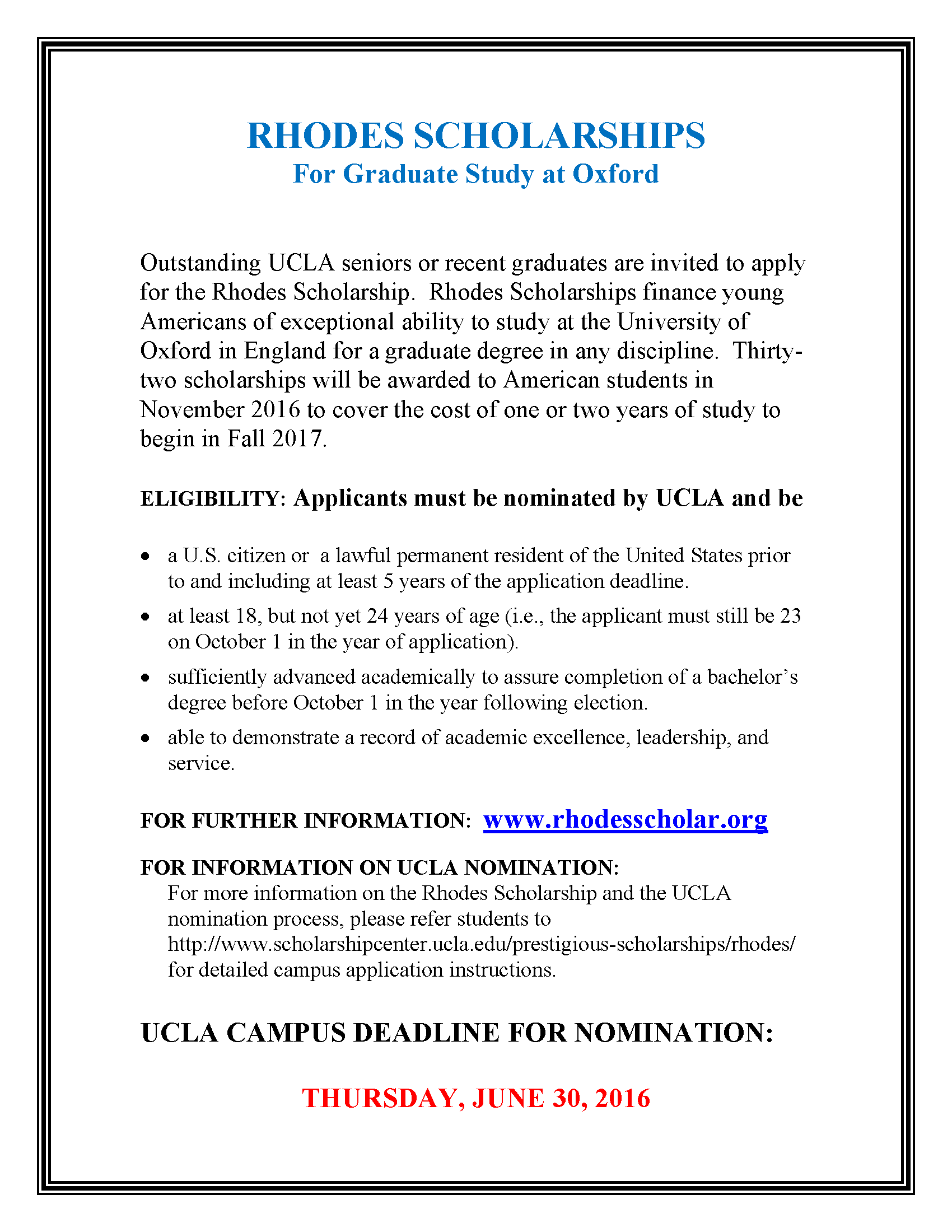 Direct Link:
http://www.scholarshipcenter.ucla.edu/prestigious-scholarships/rhodes/