Submitted by

vhartoonian

on Tue, 2019-04-30 07:32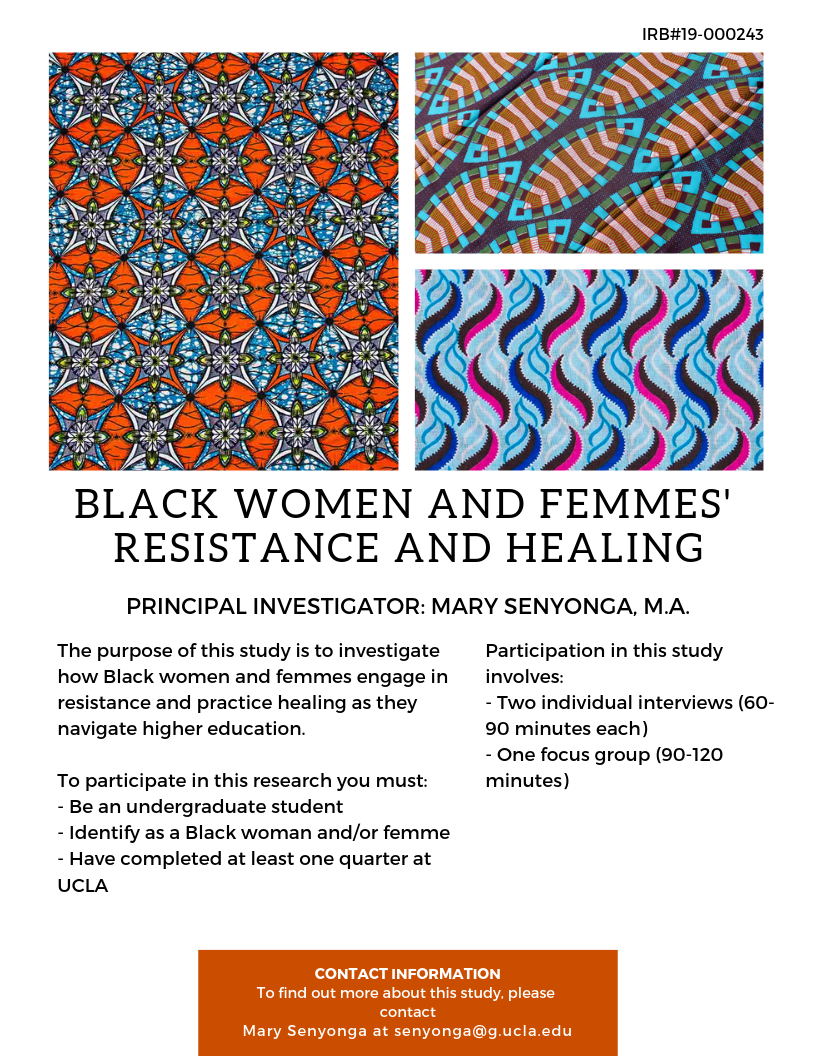 Hello!
I  am conducting a study that seeks to understand the unique experiences of Black women and femmes as they attend a predominantly white institution (PWI), how they engage in resistance against marginalization, and the healing methods used while navigating higher education.
To participate in this study you must:
      Be an undergraduate student
      Identify as a Black woman and/or femme
      Have completed at least one quarter at UCLA
Participation in this study involves:
       Two individual interviews (60-90 minutes)
       One focus group (90-120 minutes)
During the individual interviews, I will ask you to consider how you got to UCLA. The focus group will serve as a space to collectively discuss healing methods you have used while attending UCLA.  
The information that is acquired from this study may provide insight into the unique barriers faced by Black women and femmes at PWIs as well as the self-sustaining practices used to disrupt those challenges.
If you would like to participate or have any questions/concerns, please email me at senyonga@g.ucla.edu.
Thank you,
Mary Senyonga, M.A.
Doctoral Candidate, Graduate School of Education and Information Studies
University of California, Los Angeles
Research Associate, Center for Critical Race Studies (CCRS)
Pronouns: She/Her/Hers