Submitted by

dylan

on Tue, 2016-11-15 10:30
Deadline:
Monday, December 19, 2016
Contact:
src [at] college [dot] ucla [dot] edu
The UCLA Scholarship Research Center is now coordinating the nomination of UCLA students for most major national scholarships and fellowships including the Rhodes, Marshall, Mitchell, Churchill, Goldwater, Truman, Beinecke, Udall, Cooke, Strauss, and Gates Cambridge scholarships.  Announcements will be forthcoming for each of these scholarships as they become due.
As part of our effort to inform and recruit students for these prestigious and lucrative scholarship opportunities, we are asking for your assistance in forwarding this email to your student list-serve and posting copies of the attached flyer in areas where students will see them.  We appreciate anything you can do to encourage exceptional students in your department to apply.  Attached please find  an electronic copy of a printable flyer for the Goldwater Scholarship. 
Please note that the UCLA campus deadline for the Goldwater Scholarship is December 19, 2016.
For more information on the Goldwater Scholarship and the UCLA nomination process, please refer students to the UCLA Scholarship Resource Center (310-206-2875 or src [at] college [dot] ucla [dot] edu). 
For campus application instructions, please go to http://www.scholarshipcenter.ucla.edu/prestigious-scholarships/goldwater/
We encourage you to forward this email to faculty and others in your department who have contact with students.  Please feel free to contact us if you have any questions.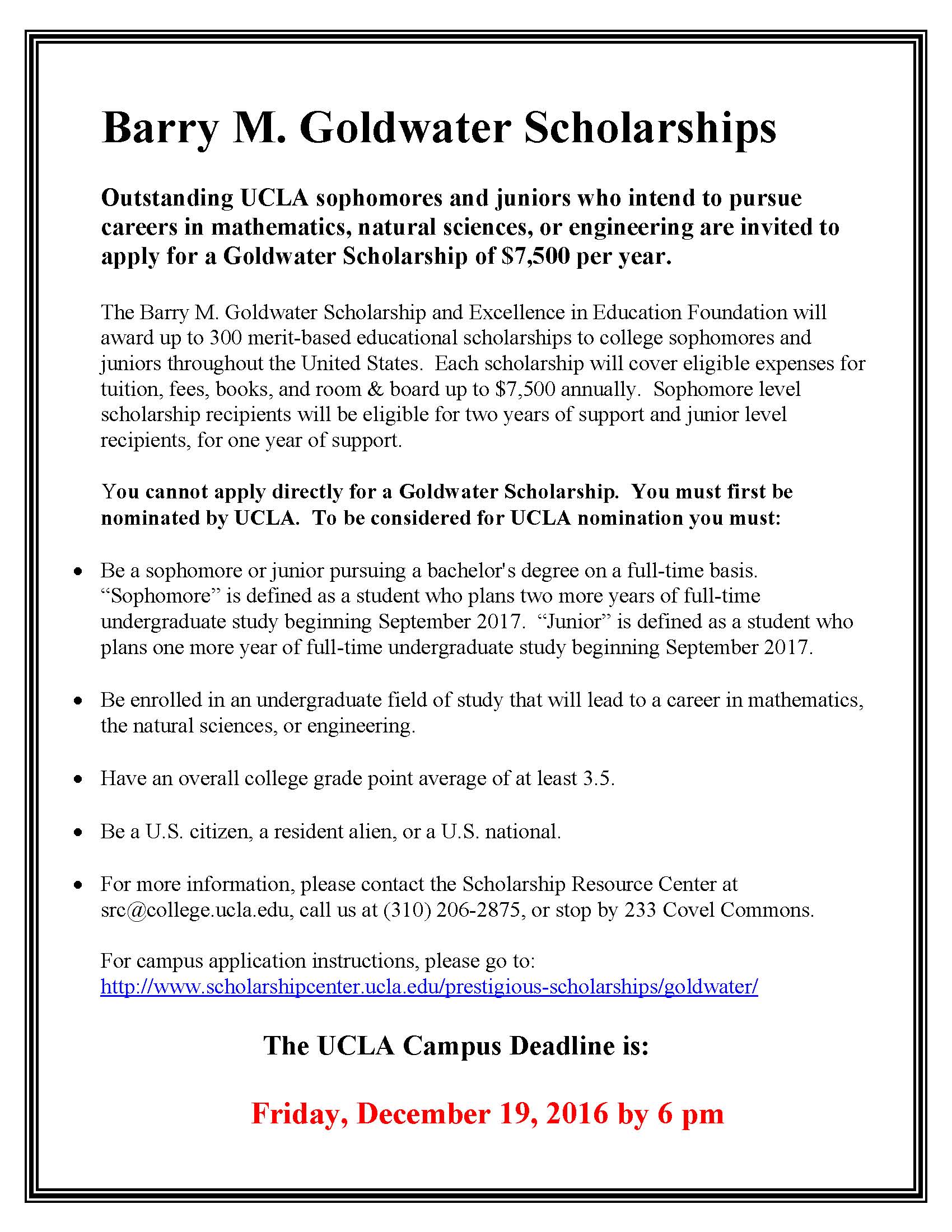 Direct Link:
www.scholarshipcenter.ucla.edu/prestigious-scholarships/goldwater/