Submitted by

yanderson

on Wed, 2019-11-13 09:38
Deadline:
Sunday, November 24, 2019
Contact:
https://www.facebook.com/SKYatUCLA
Do you want to be happier? Less stressed?
Searching for clarity, wisdom, connection?
SKY@UCLA is a wellness organization devoted to strengthening student well-being and mental health, and building student leaders.
We are happy to present the Fall SKY Happiness Workshop a cutting-edge leadership and wellness program designed for students, which includes powerful breathing meditation techniques to deeply reduce stress and bring a sense of calm and joy.
Thousands of students at more than 75 universities nationwide (including Harvard, MIT, and Stanford, where the SKY Happiness Workshop is offered for credit) say it helps you: 
• Learn powerful evidence-based meditation techniques that bring clarity and calm
• Understand sources of stress and the power of breathwork
• Gain the ability to effectively manage stress, energy and negative emotions
• Experience tools to increase personal happiness!
• Increase social connection, enthusiasm, and inspiration
• Learn to deal with criticism and mistakes
• Increase mental capacity and self-confidence
• Develop greater equanimity

Workshop Details:
Dates: November 21 - 24, 2019 (Thursday - Sunday) (attendance at all sessions is required)
Times: Thu-Fri: 6:30-9:30 PM    Sat-Sun: 1:00 PM-6:00 PM
Location: ON CAMPUS(Room to be announced)
Cost: Complete a scholarship application online at:  tiny.cc/skyucla

There are limited spots available for this workshop, and they are filling up fast. If you would like to attend, please fill out the scholarship application. Once you submit it, we will contact you to discuss further details. *Availability is first come, first serve and requires attendance to all sessions.    

Check us out:
Instagram: https://www.instagram.com/skyatucla/
Facebook: https://www.facebook.com/SKYatUCLA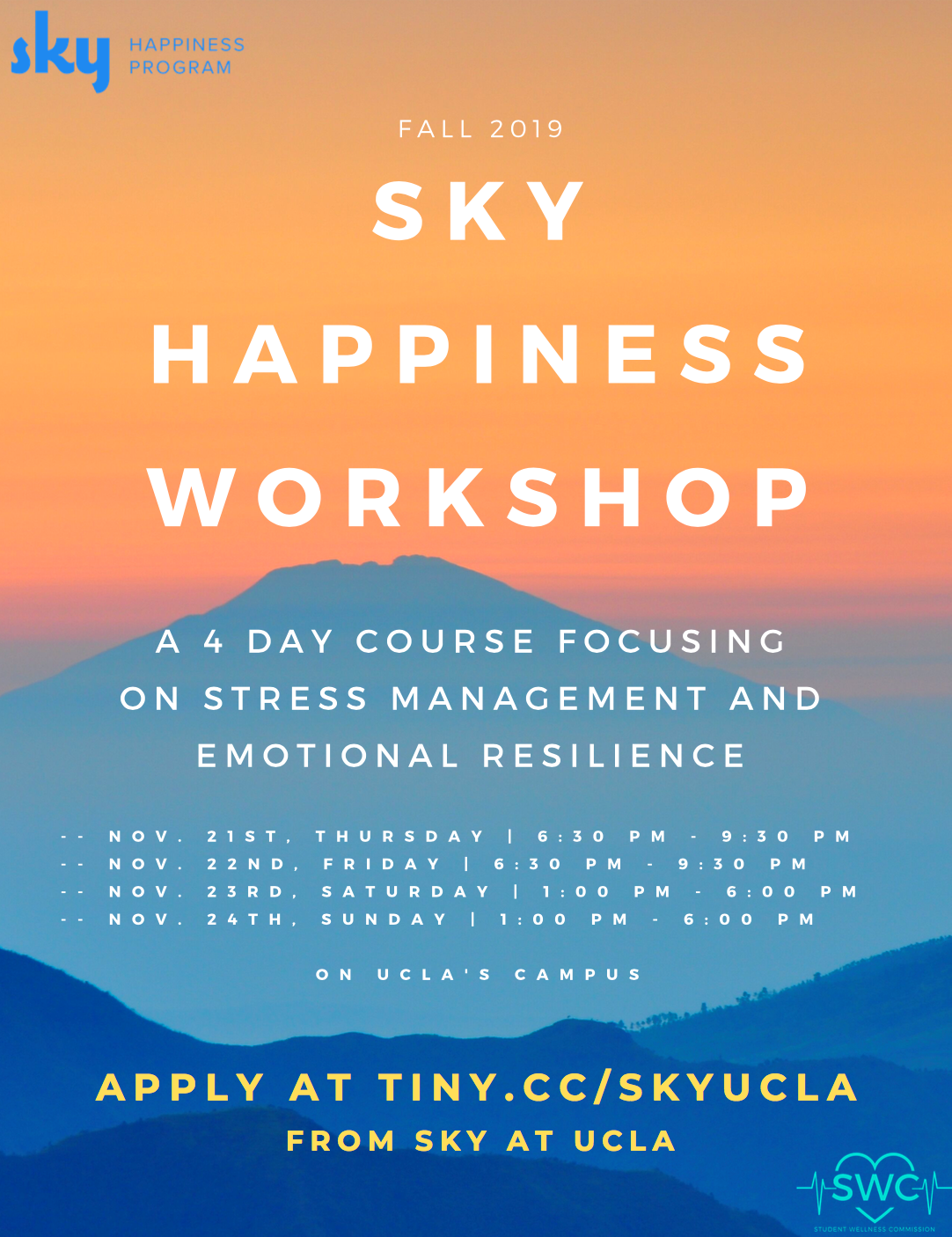 Direct Link:
https://docs.google.com/forms/d/e/1FAIpQLSc915bHkXlh3sbw-quzNQKSlbUNYbb5Eb3dQS5sdGQOEcXyxg/viewform