Submitted by

vhartoonian

on Tue, 2019-04-16 09:50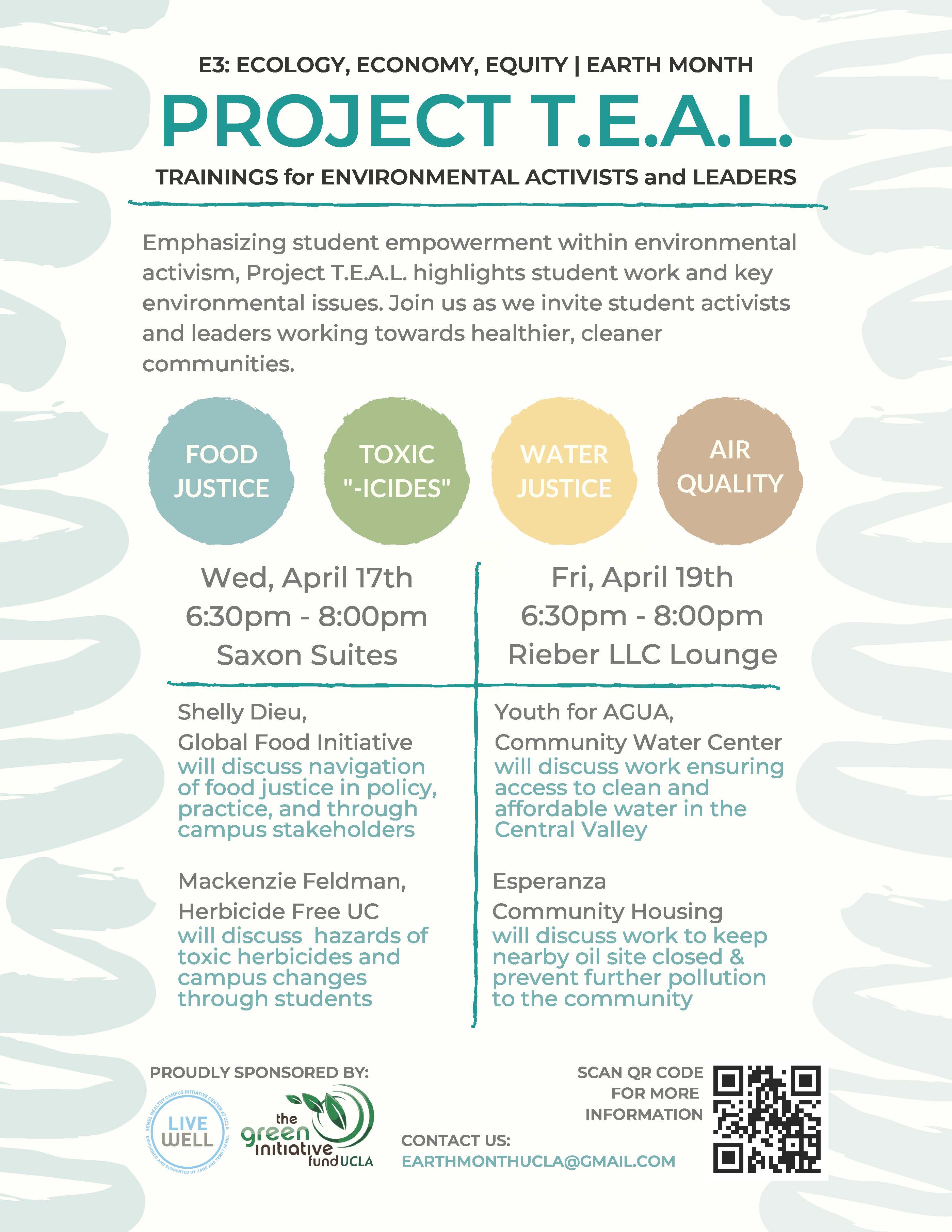 Operating under one of the largest environmental student organizations E3:
Ecology, Economy, and Equity, Earth Month is dedicated to address environmental issues such as air quality, water justice, food justice, and toxic "-icides" (herbicides, pesticides, etc.) throughout April. Every year, we host UCLA's Annual Earth Day Fair along with a Sustainability Speaker Panel. This year, we are launching Project T.E.A.L. (Trainings for Environmental Activists and Leaders).
Through a series of workshops, we are hoping to educate the campus community of our for main environmental issues and prepare students to become informed environmental advocates and leaders. Each workshop will have two student guest speakers speaking about their sphere of environmental issues and what students at UCLA can do moving forward about the issues discussed. Here's a sneak peak and run-down of our current workshop plans.
Wednesday, April 17th: Food Justice and use of Toxic "-icides"
Food Justice Speaker: Shelly Dieu from UCLA Calfresh Initiative

will talk about student initiated efforts working towards campus food security
how to navigate student-based initiatives with campus stakeholders

Toxic "-icides" Speaker: Mackenzie Feldman from Herbicide Free UC

will talk about her work getting UC Berkeley to reduce their use of toxic carcinogenic herbicides and getting other schools in the UC system to do the same
Friday, April 19th: Air Pollution and Water Justice
Air Pollution Speakers: High School Activists from the Esperanza Community

will talk about their community's efforts to keep an oil site from reopening and what UCLA student can do to help

Water Justice Speakers: Youth Activists from the San Joaquin Valley

will talk about the Central Valley's water crisis and their work advocating for access to clean, drinkable, and affordable water
If you're interested, please fill out this form to RSVP:
https://docs.google.com/forms/d/e/1FAIpQLSdhCOnV6rPo11v341iN7ReWbTsYwntOkneZeCbthF15gwEtPA/viewform
Follow Earth Month at UCLA on Facebook for more updates!