Submitted by

yanderson

on Tue, 2020-02-11 07:41
Deadline:
Saturday, February 29, 2020
Dear first-year students:
Do you want to ace UCLA? Would you like to learn how to navigate a top-tier research institution? Do you want to get the most out of your undergraduate experience? Do you want to feel at home in such a large campus? Do you want to build community with your peers, faculty, and staff?
We are excited to inform you about a course that is designed specifically for first-year students--University Studies 10: Ace UCLA | Critical Strategies to Achieve Undergraduate Excellence.
2 units, Pass/No Pass. Enroll on MyUCLA!
University Studies is offering 6 seminars 2020 Spring:
3 seminars of UNIV ST 10D for transfer students
3 seminars of UNIV ST 10E for first-generation college students
Transition. Engage. Navigate.
This course will help you transition into, engage with, and navigate the complex structure of UCLA by teaching you the following:
Mission of a research university
Expectations of students
Effective learning strategies
High-impact practices
Value of building relationships with UCLA faculty and staff
Importance of growth mindset, resilience, and wellness
Value of diversity
Student development theory
College-to-career transition
Students who have taken the course have this to say about it:
"This class needs to be taken by every student coming in as a first year/transfer. I have learned so much and feel much more confident about navigating this campus. I am not afraid to seek help because I know that there are resources for everything. This class made me feel like a human and not just another student. I loved how that was enforced in every class."
"Although I had an intense amount of work this quarter, I can genuinely say that this class was extremely rewarding. Had I not enrolled myself into this course, I would have never gone to other professors' office hours, let alone be able to gain the confidence I needed to participate in class discussions."
"If I hadn't taken this course I would have still been very lost at UCLA and I probably would have ended up transferring out to a different UC but now that I know more I am going to stay and make the most of my time here."
"I think this class is extremely valuable and crucial for first-generation students because it truly informs you of what UCLA expects from its students. I truly wish this class could be a requirement for first-generation students because this class will allow students to learn how to navigate the university which will allow them to feel more confident."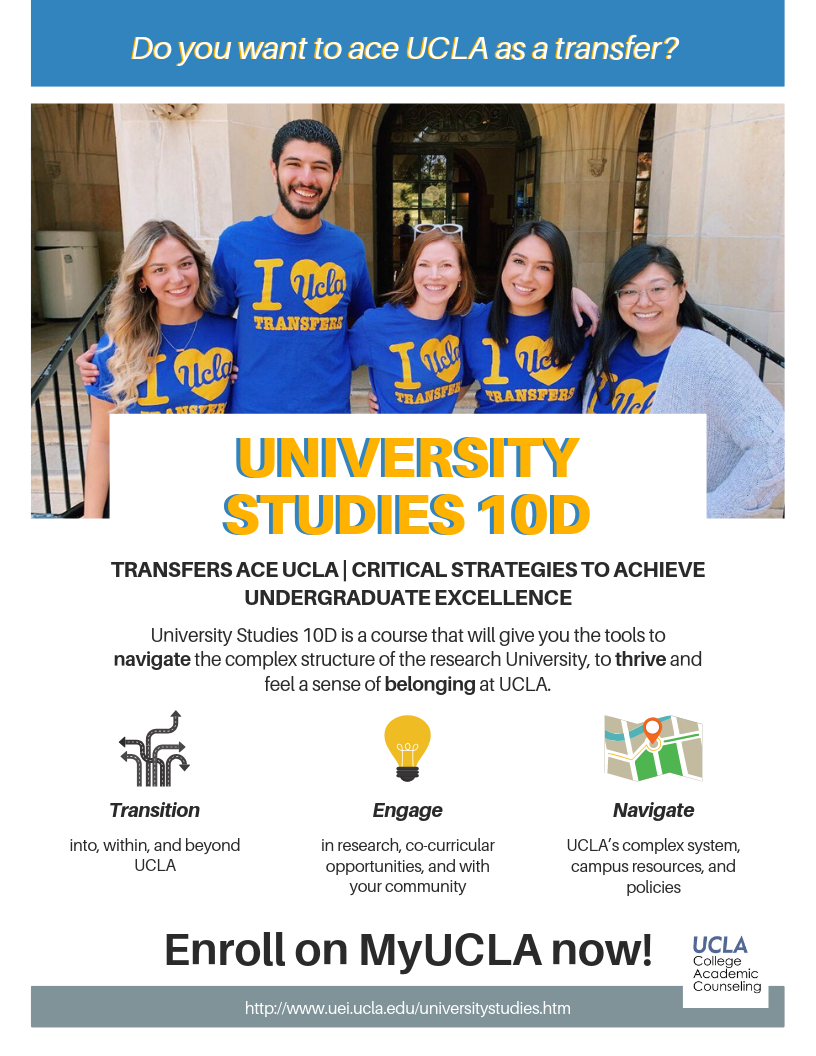 Direct Link:
http://www.uei.ucla.edu/academic-programs/university-studies/