Submitted by

yanderson

on Tue, 2019-10-22 12:14
Deadline:
Tuesday, October 29, 2019
Contact:
UCLA Center for Community Learning| A265 MURPHY HALL |LOS ANGELES, CA |90095-1571 310.825.7867 | CCL@college.ucla.edu | www.communitylearning.ucla.edu
Apply to be a Changemaker Scholar!
Are you civically engaged?
Are you interested in mentoring youth serving their community?
Are you looking for an exciting internship opportunity, while earning upper-division credit?
The UCLA Center for Community Learning welcomes applications for the Changemaker Scholars Program.
Changemaker Scholars work with Changeist to mentor youth civic activists in their pursuit of social change.
All students selected to be Changemaker Scholars will receive a $2,000 scholarship and will enroll in a 4-unit upper-division UCLA independent study course.
Benefits:

 

Learn youth development skills
Actively work toward greater social justice outcomes
Develop your critical consciousness
Join a network of young people working to bring about change throughout California

 

Eligibility:

Have sophomore, junior, or senior standing
Open to all majors
Minimum 3.0 GPA
Must have 90 cumulative units
Ability to work with assigned team 3 Saturdays a month from January to July 2020
Changemaker Scholars work Changeist:
Changeist runs a 22-week Saturday program for young people to transform themselves and their communities in pursuit of social change, executing their vision for a more just society.  Middle school and high school-aged youth work in small teams to build context for the issues that matter most to them, develop relationships with local changemakers on the ground and build an impactful project that they have full ownership over.
Changeist is looking for folks that are passionate about social justice, looking to grow their youth work skills, and are ready for an adventure—as a Team Leader, you will facilitate activities, help your team of young people navigate difficult conversations and ultimately empower them to take action.
Interview Process & Selection:
• Interviews will take place November 1st, 4th, and 5th
• Selected students are required to attend training Nov 9th, 16th, and 23rd from 9am-4pm
How to Apply:
All interested students should complete the online application before the deadline: October 29, 2019.
https://docs.google.com/forms/d/1DrLaXAgoKLWFzezx1qj5_yc2hWsq_KKXNr4BsGf9zEU/viewform?edit_requested=true
Questions? Contact Us:
UCLA Center for Community Learning| A265 MURPHY HALL |LOS ANGELES, CA |90095-1571
310.825.7867 | CCL@college.ucla.edu | www.communitylearning.ucla.edu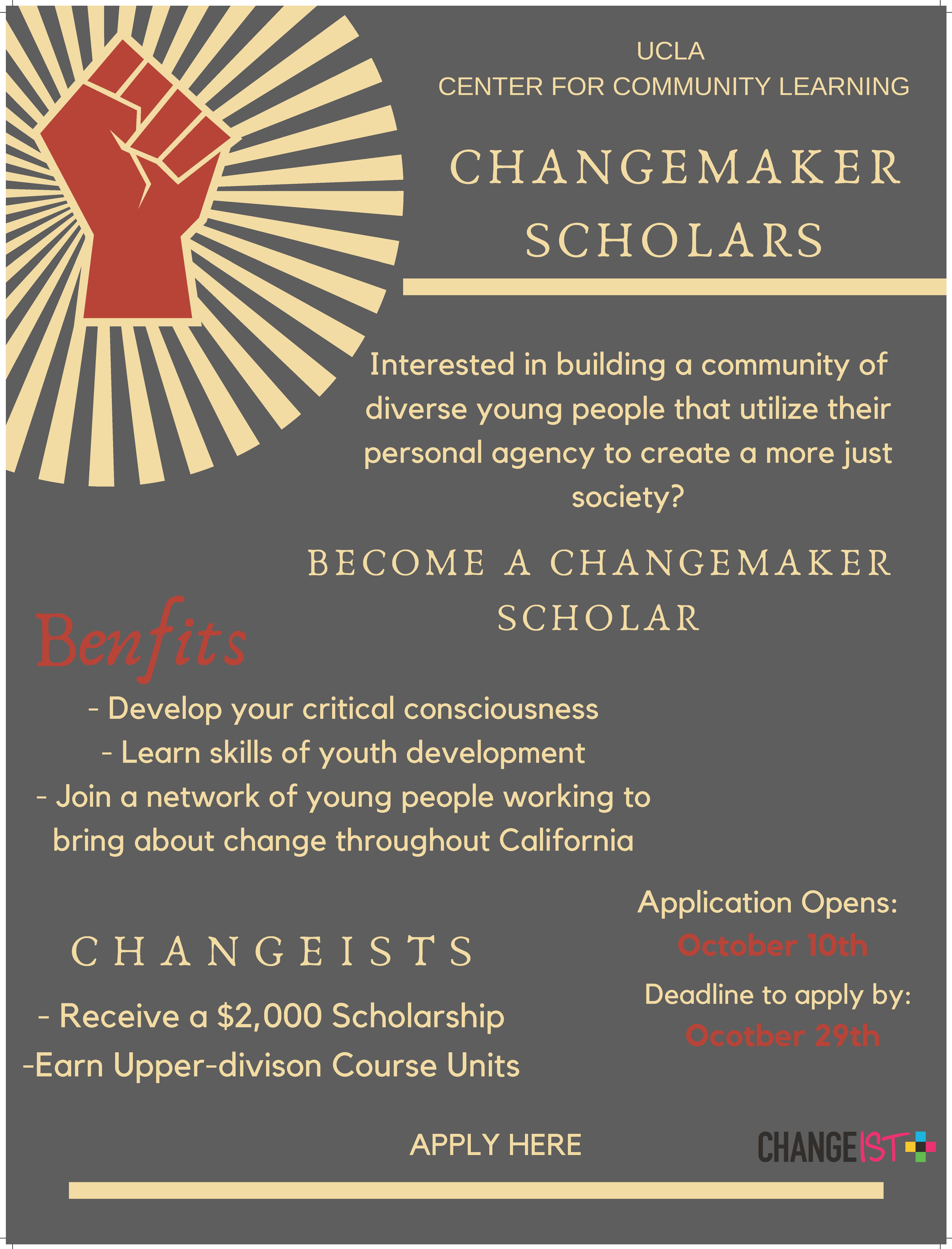 Direct Link:
https://docs.google.com/forms/d/1DrLaXAgoKLWFzezx1qj5_yc2hWsq_KKXNr4BsGf9zEU/viewform?edit_requested=true