Submitted by

lucia

on Wed, 2016-12-14 13:58
The Beinecke Scholarship program seeks to encourage and enable highly motivated students to pursue opportunities available to them and to be courageous in the selection of a graduated course of study in the arts, humanities and social sciences. Since 1975 the program has selected more than 570 college juniors from more than 100 different undergraduate institutions for support during graduate study at any accredited university. Each scholar receives $4,000 immediately prior to entering graduate school and an additional $30,000 while attending graduate school. There are no geographic restrictions on the use of the scholarship, and recipients are allowed to supplement the award with other scholarships, assistantships and research grants.
To be eligible for a Beinecke Scholarship, a student must:
        Have demonstrated superior standards of intellectual ability, scholastic achievement and personal promise during his or her undergraduate career.
        Be a college junior pursuing a bachelor's degree during the 2016-2017 academic year. "Junior" means a student who plans to continue full-time undergraduate study and who expects to receive a baccalaureate degree between December 2017 and August 2018.
        Plan to enter a master's or doctoral program in the arts, humanities or social sciences.
        Be a United States citizen or a United States national from American Samoa or the Commonwealth of the Northern Mariana Islands.
        Have a documented history of receiving need-based financial aid during his or her undergraduate years.
As part of our effort to inform and recruit students for these prestigious and lucrative scholarship opportunities, we are asking for your assistance in forwarding this email to your student list-serve and posting copies of the attached flyer in areas where students will see them.  We appreciate anything you can do to encourage exceptional students in your department to apply.  Attached please find  an electronic copy of a printable flyer for the Beinecke Scholarship.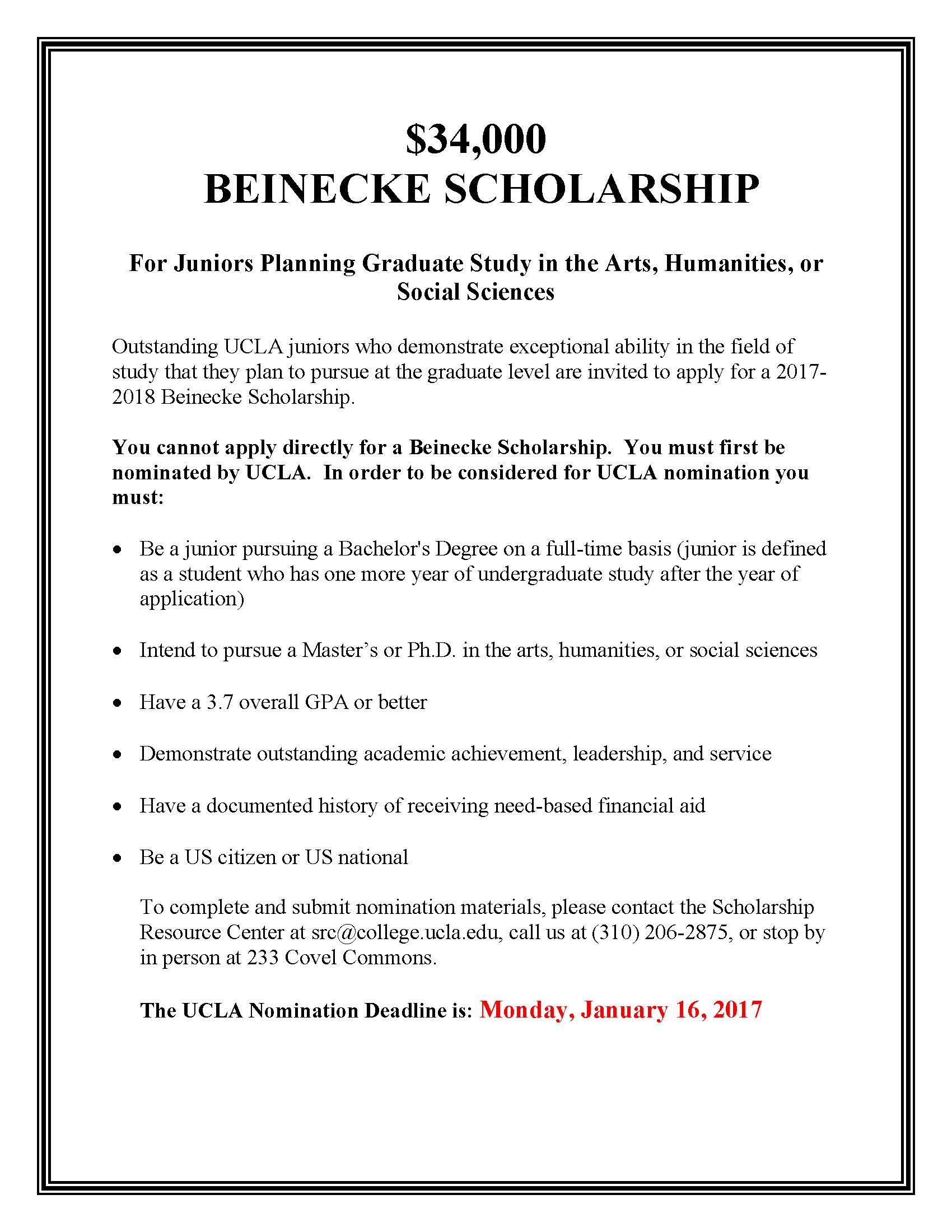 The UCLA campus deadline for the Beinecke Scholarship is January 16, 2017
For more information on this scholarship listed above and the UCLA nomination process, please refer students to the UCLA Scholarship Resource Center (310-206-2875 or src@college.ucla.edu). 
For campus application instructions, please go to http://www.scholarshipcenter.ucla.edu/prestigious-scholarships/beinecke/
We encourage you to forward this email to faculty and others in your department who have contact with students.  Please feel free to contact us if you have any questions.