UCLA Mathematicians and Anthropologist Team Up to Fight Crime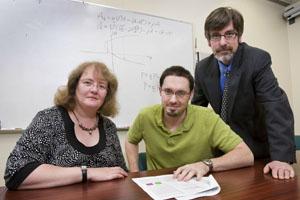 UCLA Math professor and director of applied mathematics Andrea Bertozzi, and assistant adjunct professor of mathematics Martin Short have collaborated with UCLA associate professor of anthropology Jeffrey Brantingham and George Tita (UC Irvine) to apply sophisticated math to urban crime patterns to determine which types of crime "hotspots" in Los Angeles are most likely to be affected by intensified police actions. Their work on crime hotspots appeared this week in the Proceedings of the National Academy of Sciences (PNAS) and will be the cover article of the March 2 print edition.



Click Here for more on their crime-busting research...



Click Here for a video story of their research...



Click Here for the PNAS research article...