Joseph Teran Receives Office of Naval Research Young Investigator Award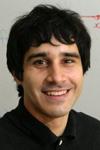 The Office of Naval Research (ONR) has awarded UCLA Mathematics Assistant Professor Joseph Teran a prestigious Young Investigator Award for his proposal, "Manycore Accelerated Algorithms for Computational Solid and Fluid Mechanics." ONR's Young Investigator Program identifies and supports outstanding academic scientists and engineers who show exceptional promise for doing creative research. One of 17 recipients, Teran is the only mathematician to receive the 2010 award.



Click Here for more information...