Submitted by

aileen

on Mon, 2017-07-17 10:12
Deadline:
Saturday, September 30, 2017
As part of CSW's Gender and Everyday Water Use project, we are seeking individuals and families in MacArthur Park (90057), Koreatown (90020), Beverly Hills (90210), and Inglewood (90305).
Researchers will visit your home twice, once for an introduction and a second time for a 1-2 hour interview. Additionally, they will ask household members to record how you use water over 4 days in a week.
Participating household will receive a $100 gift card!
To ask questions or volunteer to participate, send an email to thinkwater@ucla.edu or leave a message at (310) 825-0590.
This research is directed by Jessica Cattelino, UCLA Associate Professor of Anthropology and Associate Director of the Center for the Study of Women.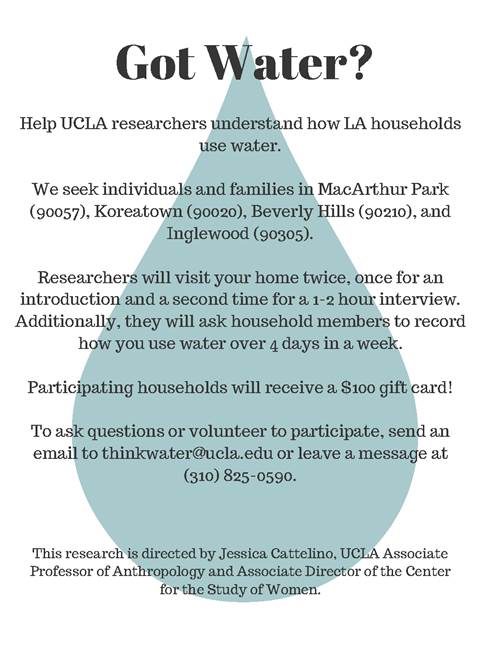 Direct Link:
https://csw.ucla.edu/gender-everyday-water-use-los-angeles-households/