Submitted by

lucia

on Mon, 2017-01-23 16:44
Deadline:
Saturday, January 28, 2017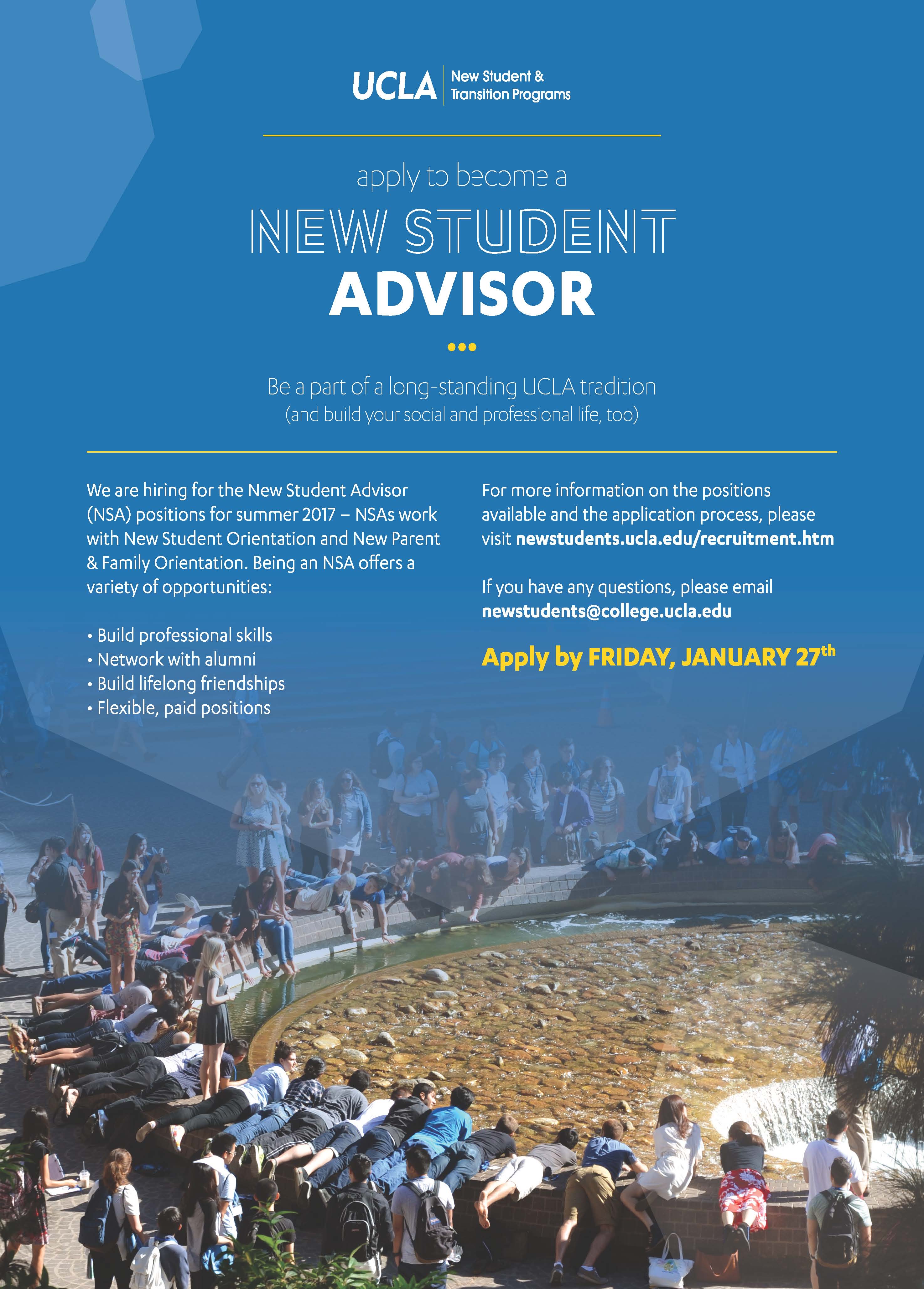 New Student & Transition Programs is now hiring this summer's New Student Advising staff.  There are two positions available: Team Blue and Team Gold.  Team Blue works within the NSTP office, helping to run the administrative aspects of the program and also serve as advisors for family members at Family Orientation. Team Gold are the peer advisors who provide both academic counseling and a firsthand knowledge of the campus to students at the first year and transfer sessions.
Being a part of the UCLA New Student & Transition Programs staff is a big commitment with great rewards! Whether you are on the Blue team or the Gold team, you have the potential to help new students make a successful transition to UCLA. As a new student's first impression of UCLA, you can instill Bruin pride, motivate for the road ahead, and help them to succeed at UCLA. In addition, you will build fantastic skills, including counseling, teaching, and leading presentations. Working within this close-knit staff often develops lasting, memorable friendships as well!
Applications for both positions will be due on Friday, January 27, 2017 by 5:00 pm in 201 Covel Commons.
To fill out an application or for additional information please visit http://www.newstudents.ucla.edu/recruitment.htm
We look forward to receiving your application!
Thanks.
--jesse
● ● ●
Jesse Carrasco, MS Ed.
Associate Director
UCLA New Student & Transition Programs
201 Covel Commons
Los Angeles, CA 90095-1401
(310) 206-0463