Sorin Popa elected into the American Academy of Arts and Sciences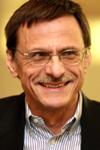 The American Academy of Arts and Sciences has elected mathematics Professor Sorin Popa, along with 4 other UCLA faculty, into the 2013 list of Academy Fellows. Elected members stem from an array of disciplines including mathematics, science, public affairs, art, business, and scholarship. The Academy serves to honor these individuals' accomplishments while calling upon them to serve the public good by "conduct[ing] a varied program of projects and studies responsive to the needs and problems of society."
Sorin Popa
Professor of mathematics
Popa, a fellow of the American Mathematical Society, is an expert in the branches of mathematics known as functional analysis/operator algebras and ergodic theory, among others. From 2000 to 2005, he elaborated a revolutionary new method for classifying operator algebras associated with actions of groups on measure spaces, which led to the solution of many mathematical problems that were believed to be unsolvable for several decades. Popa earned his doctorate from Romania's University of Bucharest and has been a mathematics professor at UCLA since 1987. He is the former chair of the UCLA math department and the recipient of numerous awards and honors.