Monica Visan Awarded Sloan Research Fellowship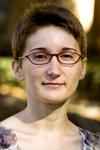 The Alfred P. Sloan Foundation has awarded UCLA Mathematics Assistant Professor Monica Visan a 2010 Sloan Research Fellowship in mathematics. Established in 1955, the two-year fellowships seek to stimulate fundamental research by early-career scientists and scholars of outstanding promise. Visan, who joined UCLA Math in 2009, is one of the top young researchers in the field of nonlinear Schrödinger equations and has made significant progress towards one of the major open problems in her field of interest, the global regularity and well-posedness problem for the mass-critical nonlinear Schrödinger equation. Visan is one of five UCLA 2010 Sloan fellowship recipients.



Click Here for a list of recipients...



Click Here for more on Visan's research...