Math Student Awarded Charles E. and Sue K. Young Graduate Student Award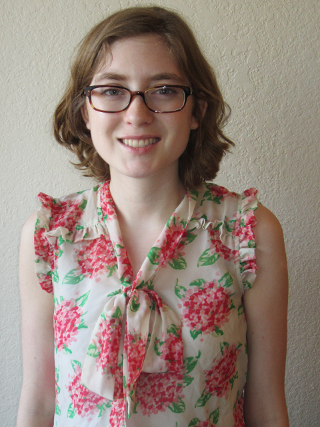 Kaitlyn Hood (UCLA Math Graduate Student, Professor Marcus Roper) has been awarded the 2013-14 Charles E. and Sue K. Young Graduate Student Award. Given by the College of Letters and Sciences to six students annually (3 graduate, 3 undergraduate), the award acknowledges students' academic achievements, research, and service to the University and community.
"My research involves modeling the effects of inertia in microfluidic devices.  In collaboration with Dino di Carlo's lab in Bioengineering, we are trying to understand and predict particle movement in tiny channels.  Our ultimate goal is to build a software that can be used to design microfluidic chips. These chips have many medical applications, for example automating blood tests to diagnose cancer.  This research is interesting because it is predictive and has promising applications, while at the same time it asks simple, fundamental questions.
My service activities focus on increasing the representation of minorities and women in the STEM fields (Science, Technology, Engineering, and Mathematics). I was a cofounder of our unofficial women in mathematics group at UCLA. Other activities I have organized or participated in include: the 2013 Exploring Your Universe, the AWiSE EmpowHer STEM Day, the 2014 Intel International Science and Engineering Fair, and the 2013 Ada Lovelace Wikipedia Edit-a-thon, in addition to departmental recruitment and mentoring activities."