2017 UCLA Math Commencement Keynote Speaker: Demetri Brizolis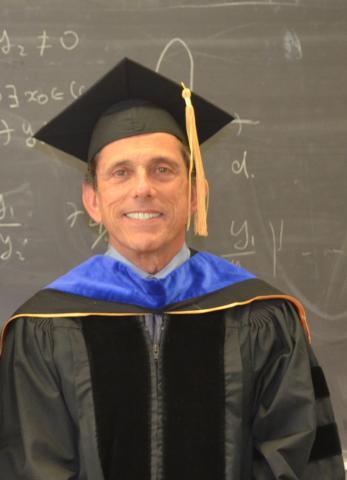 On Sunday, June 18th, three-time UCLA Math alumnus Demetri Brizolis returned to campus to give the commencement keynote address to over 400 graduates, their families and friends. Demetri has remained very active in the department in many ways. Please read below for a short biography of Demetri from the UCLA College Magazine: 
"Three-time UCLA alumnus Demetri Brizolis is president of Daabco Industries, Inc., a privately held investment company that he and his wife Ann founded in 1989. Prior to forming Daabco, Demetri was senior vice president of Imperial Corporation of America, a multi-billion dollar financial services company based in San Diego, where he headed the commercial real estate lending division.
Before joining Imperial, Demetri was a tenured associate professor of mathematics at Cal Poly, Pomona and a visiting assistant professor of mathematics at USC. During his career in academia, he conducted research and published papers in the area of algebraic number theory.
Demetri earned his B.A., M.A. and Ph.D. degrees in mathematics at UCLA, where he has served as a part-time visiting associate professor since 2013. He and his wife live in Rancho Santa Fe. Their son, Alex, is also a graduate of UCLA."