NEWS UPDATE
Second Annual UCLA Actuarial Case Competition
We are happy to announce the coming of the Second Annual UCLA Actuarial Case Competition. We are very thankful to Kaiser Permanente for writing our case this year. The competition will be held during Weeks 1 and 2 of Winter Quarter as to not interfere with schoolwork.

This will be a great opportunity for members to learn more about the actuarial career and practice professional skills. The most outstanding teams will be matched up with an actuary from Kaiser as a mentor and have the opportunity to present in front of various firm professionals. This is a big plus in the recruiting scope; some members of top teams last year have had special opportunities to interview at several firms. Additionally, the winners of the competition will win a $100 gift card and a trophy.

We would like to see how many members are interested in participating before setting the number of members per team, so, if you are interested in participating, please fill out this form.

Please note that you must be a paid member to participate. If you have not yet paid, we will be collecting membership fees during the kick-off meeting on Thursdasy, January 9 of Week 1.
BAS Fall Social: Casino Night
Everyone is in the thick of Fall Quarter now, and so in case you are tired of studying for midterms and applying for jobs/internships we have a social event to help everyone de-stress. We welcome you to come relax and have fun with BAS at our first ever Casino Night!\

Event Details:
What: Casino Night
When: Thursday, Nov 21, 2013 6:30pm - 8:30pm
Where: MS 3974 (SMC)
Why: Because we all deserve to have a little fun.

We'll have carnival style games, black jack, poker, and (digital) roulette, and yes: we will be gambling (for tickets)! The individual with the most BAS tickets at the end of the night will have his/her choice between a Starbuck's or a Jamba Juice gift card! The remaining gift card will be raffled out to one lucky winner.

Don't worry if you don't know how to play any of the games: officers will be at each game station to help newcomers learn the rules so everyone can participate.

Finally, Sushi Stop and Diddy Riese will be provided, so please RSVP here to ensure that we have enough food for everyone.
Workshop Wednesday!
Are you a Freshman or an International Student looking for some direction as you set off on the actuarial path? This Wednesday we will be hosting two workshops. Please note the updated time and location.

Freshmen Workshop
When: October 16, 5:30 pm - 6:30 pm
Where: MS 6627
What: Learn about the various paths to an actuarial career at UCLA (Majors, minors, etc). Get help creating a four-year plan for yourself! Learn about networking and career building. Meet other freshmen actuarial students, and get questions answered by the officers!
Note: if you plan on attending the Freshmen Workshop, please download this Excel workbook and bring laptops!

International Student Workshop
When: October 16, 6:45 pm - 7:30 pm
Where: MS 6627
What: Learn about the job application process, especially obtaining work authorization as a full time student (CPT) and after graduation (OPT). Learn about the (employer-sponsored) H-1B visa. Hear other general recruiting tips for international students.

Please RSVP if you want to come!
UPDATE! Sixth Annual BAS Career Fair
UPDATE If you have RSVP'ed but have not yet paid, the last opportunity to pay will be at our Prep Session. Please show up early if you need to pay.

We are proud to announce that our Sixth Annual Bruin Actuarial Society Career Fair is next Monday, October 7th!

5:00pm - 5:45pm: Networking Prep Session by Ezra Penland in MS 5200

6:00pm - 8:30pm: Career Fair in Ackerman Grand Ballroom
Dress Code: Business Professional

Please RSVP by 5pm this Thursday, 10/3 using this link: RSVP Link

Remember, only paid members are allowed to attend this event. You can pay during our Towers Watson event tomorrow night.

We hope to see you all there!
Towers Watson Info Session/Resume Critique
Hello everyone! This is a reminder that our next event will be this Wednesday, October 2 at 6:30pm in Franz 1260. Representatives from Towers Watson will be holding an info session where they will share their experiences as consulting actuaries and give advice on how to make your resume stand out to employers.

BRING YOUR RESUME if you would like to stay after the event for a one-on-one resume critique with the professionals! Food will be provided. If you wish to come network with the representatives, feel free to dress busines casual (it is not required).

Finally, this is our last event before the career fair, so if you have not yet done so, please arrive early to pay the $35 membership fee. Only paid members will be allowed to attend the career fair.

We hope to see you on Wednesday!
Mentorship Mixer
Recruiting season is HERE! To help our members prepare we will be having a mentorship mixer THIS MONDAY, Sept. 30, where members can get to know the officers and other members and pick who they would like to be their mentor for the year!

The event will begin at 6:30 (yes, the flyers from the Enormous Activities Fair are wrong) in the SMC, which is room MS 3974.

If you were unable to pay the membership fee at the general meeting, you will have an opportunity to do so before the mentorship mixer. Remember the fee is $35, and it must be paid before the career fair in order to attend.

Hope to see you all there!!!
2013-2014 Membership
Thanks to everybody who attended our general meeting! As promised, to sign up for our mail list, click here. Please fill it out if you did not do so at the general meeting!
New Major! Financial Actuarial Mathematics
We are excited to announce that the UCLA Mathematics Department now offers a new major program, Financial Actuarial Mathematics Major! For a list of courses in this program, please click here.
Incoming Freshmen/Transfers
The first orientation session has kicked off! Welcome new freshmen and transfer students, we can't wait to meet all of you! Have a fun at orientation, and please like us on Facebook!
Website Update!
Please "pardon the dust" around the website — BAS is currently getting a webpage makeover! If the page looks off, please try clearing your browser's recent cache in order to see the latest changes!
Spring 2013 Events
Social Event
Date: Wednesday, April 3rd
Time: 6:00 - 7:15pm
Location: MS 3974

Mock Interviews
Date: Ongoing
Time: Email BAS
Location: MS 3957

Excel Workshop
Date: Wednesday, April 17th
Time: 6:00 - 8:00pm
Location: Boelter 3400

Freshmen Workshop
Date: Monday, April 29th
Time: 6:30 - 7:45pm
Location: MS 3974

BAS 2013 Spring Banquet
Date: Monday, May 6th
Time: 6:00 - 8:00pm
Location: Sequoia Room at UCLA's Faculty Center
Congratulations to the Winners of the First UCLA Actuarial Case Competition!
Erin Hansen, Paulina Hlavacek, Hanchen Huang,Serena Wang, Sitan Yan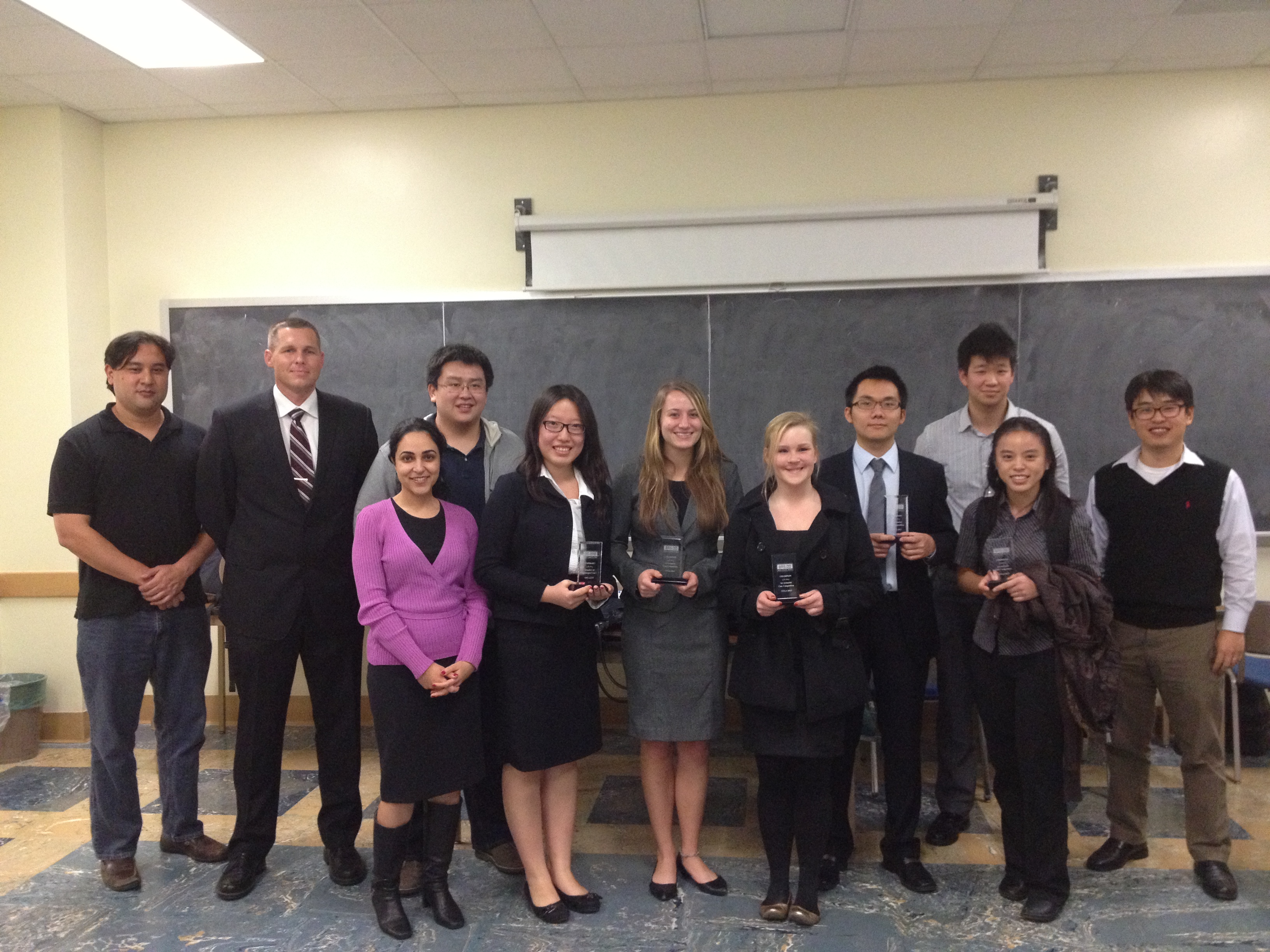 EVENTS
CLUB OFFICERS
President
Jolina Lau
Vice President
Cici Gu
Corporate Liaison — Consulting
Jonathan Chiang
Corporate Liaison — Insurance
Anthony Ip
Financial Director
Phoebe Bai
Marketing Director
Erin Hansen
EXAMS AND DEALINES
Exam P/1, Probability
January 2014 Administration
Registration Deadline: December 2, 2013
CBT Dates: January 10-21, 2014

March 2014 Administration
Registration Deadline: January 30, 2014
CBT Dates: March 14-25, 2014

Exam FM/2, Financial Mathematics
December 2013 Administration
Registration Deadline: October 28, 2013
CBT Dates: December 9-20, 2013

February 2014 Administration
Registration Deadline: December 30, 2013
CBT Dates: February 11-22, 2014

**Tip for all Members**
EMS Bolter Library has multiple Exam Manuals
For Exam P, FM, MLC, MFE, and C
Check availability in Stacks first!



Club email: